OneStep-US LLC.
Mission Statement
The mission of OneStep-US, LLC. is to partner with SMEs in the US that are expanding into Japan and beyond to make substantial, distinct, and lasting improvements in their business performance through the effective use of our  knowledge management (KM) resources and disciplines.
Core Values
 The core values that shape OneStep-US, LLC.'s organizational culture are empathy, transparency, humility, and creativity.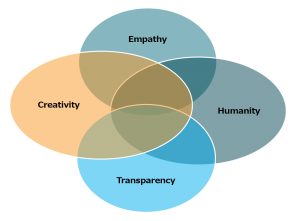 THE COMPANY'S SERVICES
1.Our Clients Can Count on Us:
We value our customer trust and satisfaction. We will go the extra mile to help and support our clients with quality services, prompt delivery and cost savings measures.
2.Consult with Us in  Confidence:
Feel confident and comfortable to consult with us. This is the most important and the first step of building trust as we  strive to be the best business partner.
3.Reduce Cost and Save Time:
It is time consuming to meet regulatory compliances, which includes timely filings with the labor supervisory authority in Japan. Our professional services help to save time and cost so that our clients can allocate corporate resources to new opportunities and more efficient management.
4.Prevent Problems, Promptly Resolve Issues:
We will help our clients to make legal and management decisions in line with regulations: preventing legal violations, labor-management troubleshooting, and dealing with problem employees. We will work to resolve problems promptly. In addition, we guide our clients with sound advice so that labor problems can be prevented beforehand.
 5.UZIO is a SaaS-based, streamlined HR tools and payroll platform, a cloud-based HR, payroll, and benefits management software. It is built especially for SMEs. This integrated solution offers local/regional brokers, employers, and employees access to centralize their HR tasks, benefits management, and online payroll processing. It's other features include legal services and more.
We have a business alliance with UZIO and use the software developed by UZIO to support HR including payroll calculation for our customers.
The Company's services
The Company's services
1.Trusted Advice

・Stragetic plannning

・Design thinking

・Program management

 

2.Foundations for Success

・Knowledge management

・Document management

・Information governance

3.Integrated Solutions

・Enterprise search

・Experience management

・Teams

 

4.Change Management

 ・Change management

 ・Practice-focused adoption planning

 
The advisory services that the Company provides to SMEs that are expanding to Japan will include
Organizational design, corporate and IT strategy,
Marketing, sales, and logistics,
Personnel management, employee social insurance and benefit claims, payroll outsourcing, advisory on labor conflict mediation
Regulatory filings, obtaining government permits, and applying for government subsidies and incentive schemes.
OWNER'S RESUME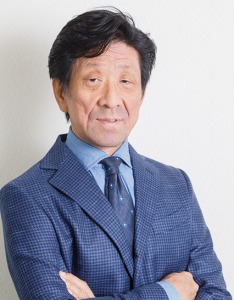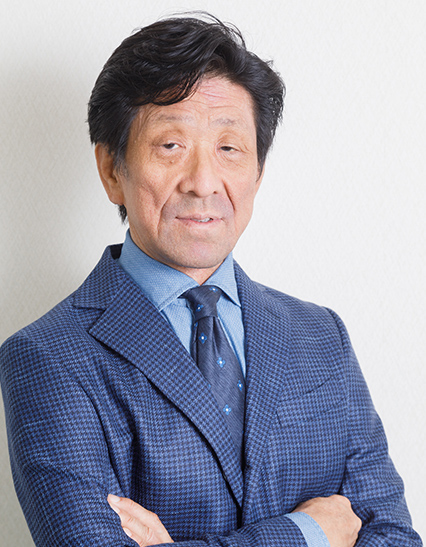 Yoshiaki
Senda            
PRESIDENT & FOUNDER
Phone: (703)260-6125
Email: y.senda@onestep-us.com
I owns 100% of OneStep-US, LLC. and will oversee the expansion and growth of the Company in the U.S. as its Founder and President. He has practiced as a Labor and Social Security Attorney, establishing companies offering payroll services and applying for government subsidies (mainly through Ministry of Health, Labor and Welfare) on behalf of his clients.
I am recognized as a leading Labor and Social Security Attorney, a legal specialist in Japan, and as a guru in areas such as labor issues, improving work environment, and grant application. With more than two decades of consulting experience, Mr. Senda has advised clients on the development of firm strategies, knowledge management, change management and client collaboration strategies. He has led complex engagement projects, executing strategic plans including the implementation and integration of portals, enterprise search, file, document and email management, and records management. He is a frequent speaker at the Associations of SME and industry conferences. Through these experiences, Owner has developed valuable working knowledge of the administrative industry and excellent business management and leadership skills.
Owner's entity in Japan has more than 10 staff members, serving over 300 clients, mainly in the Kansai region of Japan.
The office provides a one-step service where clients can consult issues related to their organizations
Employee social insurance and benefit claims,
Payroll outsourcing and personnel management,
Government subsidies and incentive schemes,
Regulatory filings and obtaining government permits
Advice on labor conflict mediation and other management matters.
Organizational Chart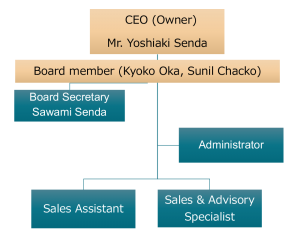 Location
OneStep-US, LLC. is headquartered at 278 Cedar LN SE #605, Vienna VA 22180 USA.
JOB OFFER
Below is a list of existing full-time job opportunities in the United States created by OneStep-US, LLC.
Design phase – The Sales & Advisory Specialist will consult on and contribute to SME exporters requirement specifications (SRS) or similar documentation.
Delivery phase – The Sales & Advisory Specialist will carry out the necessary research on the market, and present a plan that would meet the client's expectations.
Key responsibilities
The Sales & Advisory Specialist is expected to function on their own initiative, under the direction of Owner's leadership. The Sales & Advisory Specialist performance is evaluated based on their ability to demonstrate experience in the following areas:
Time Management
Being well-organized by way of maintaining an up-to-date diary, the ability to locate key-documents easily, having a tidy work environment and taking detailed notes.
Building relationships
Providing direction, motivation, training, and decision support to other team members (internal staff and the client where appropriate).
Continuous improvement
Leverage critical thinking and new tools to enhance project and development quality.
Experience
The Sales Advisory Specialist will be able to demonstrate real-world experience in the following areas:
執筆者情報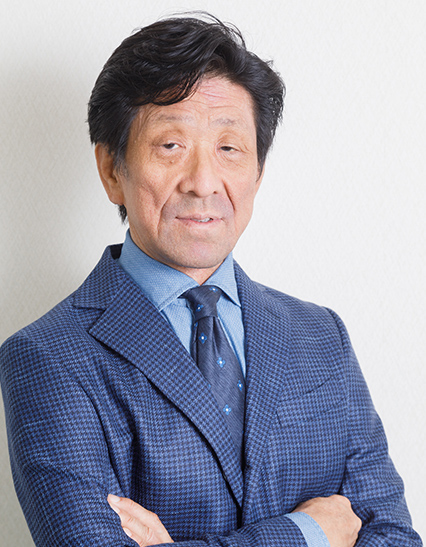 社会保険労務士法人ワンステップ
代表社員 社会保険労務士
千田佳昭
一言
当法人は2005年に創業し、その後2019年に社会保険労務士法人ワンステップへと法人化しました。創業から15年を超えても一貫して「人事労務の手続きサポート・助成金の積極提案」を主軸に取り組んできました。 人事労務のサポートを通じてより良い企業づくりと、それを通じた地域の発展を支援することが当法人の役割です。お客様のため、地域のために何ができるか日々研究し、実践しています。 お困り事があれば、まずはお電話やメール等でお気軽にお問い合わせください。
本件に関する無料相談はこちら